Personalise Your Expense Management Software With Customisable Template.
Create template, reporting, calculation formula and more which suits your company.
Request Demo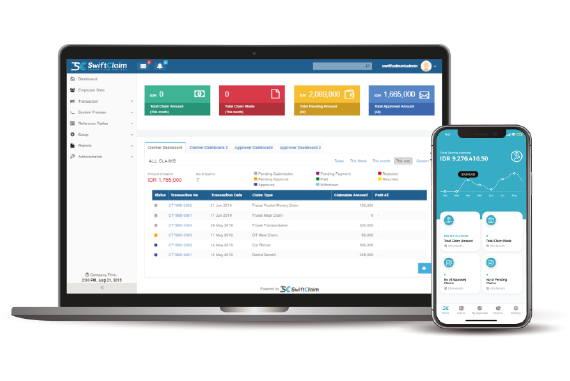 Simplify your claim management with flexible system you can adjust.
Claim for business trip and cash loans. Give an approval for request. You can do it from your computer or mobile.

Customizable Form Layout
We provide you a claim form that you can customize as your company needs.

Receipt Date Validation
Date validation of the receipt can be set to limit the period of claim.

Amount Limit Validation
Company can limit the amount of money to be claimed by the employee per transaction.

Attachment Validation
Attachment of receipt can be determined as a mandatory or just an optional.

Support formula calculation
We support some formula for calculating such as give a limitation of claim amount.
Employee's Entitlement Classification
The given balance amount of claim can be set different as the classification of employee.
Employee's Access Control
As employee classification, they only can access claim types provided by the Company.

Support OCR
Scanned receipt can be read automatically and inputted directly to the system.

Amount Limitation for Travel Request
Limiting advance payment of the approved travel request depends on company policy.

Support Auto Creation from Travel Request (Configurable)
Cash Advance transaction can be auto generated after a travel request is approved.

Input Ticket and Accomodation data
This module functions to input ticket information, hotel information, and estimation cost.
Configurable Allowance Amount based on Employee's Criteria
Allowance amount can be adjusted as employee's department, division, and position.

Support Multiple Destinations
Employee can request more than one destination of travel and those can be continued.

Date Validation
The system will validate your travel request to prevent overlap submission.

Travel Schedule Administration
Data of approved travel request can be managed and exported

Ticket and Accomodation Attachment Upload
Booked ticket and hotel will be uploaded and accessed by the employee.

Approval Delegation
Approver can delegate all submitted transaction to the chosen employee in a specific date.

Approval Reroute
In case of an emergency situation, approver can reroute the submitted transaction to the chosen employee.

Email Notification Service
Any activity in Swiftclaim will be notified to the related employee via email.

Audit Trial
All modifications in Swiftclaim will be saved automatically and its history can be tracked.

Roles & Permission Setting
Different role can be assigned to employees to specify different permission.

Dynamic Report
Creating report and customizing field as the needed of your company.

System Report
Predefined report where the user can input the transaction criteria to be shown.

Third Party Integration
Data in Swiftclaim can be integrated to Haermes system

Mobile Application
Swiftclaim Mobile Application support your need of mobile system to simplify your work.

Google Sign-in
Swiftclaim integrates to Google so you can sign-in easily with your google account.