Is Your Company Customer-Centric? Or In Process For Heading Up There?
All the features here created to make you focus on customers and put them on the top of priority. Want to give Freshdesk a try?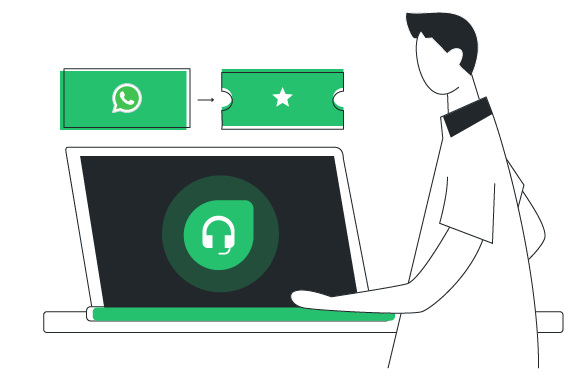 Make your customer support jobs centralised in one app to improve their productivity.
Set ticket automation so every customers can be assisted by the right agent, track agent response time, do all the things customer support task here in one place.
Team Inbox
Collaborate and resolved issue together with your support team. Every request send to your support mail will turn into ticket in helpdesk and everyone can see who's working on the ticket to ensure there's no double reply
SLA Management
Set, manage, and meet customer expectation by setting up SLA. So customer know ticket priority and requirement also how fast the response time. Helpdesk also have reminder feature for agent when ticket is critial one or overdue
Mobile Support
Bring your helpdesk wherever you go, get Freshdesk application for your android phone or Ios phone. Reply ticket from your mobile device anytime even while waiting for your coffee or order, it's completely easy and free
Manage your conversation in one place.
Manage all your channel in helpdesk so you won't get confused with many tab and account.
Live Chat and Phone Call
Assist visitor from your website and support portal right away with real-time conversation. Set up phone number on Freshdesk to support customer via phone while everything is recorded
Social Media Channel
Manage facebook, twitter and portal in the apps. Also configure how to interact with customer on every social media while you can monitoring how your customer interact via helpdesk
Email and Feedback Widget
Email will automaticaly convert into ticket also possible to group them based on priority and category. Put feedback widget either in your website or anywhere your customer might show up
Boost Team Performance and Productivity.
With game-like feature inside, besides having fun, an agent will compete for each other and show their skill to become a winner.
What is Gamification?
Almost every day, agents have to reply to the ticket. Yet agent probably gets bored and don't want to do it while the ticket keeps pilling up. So to motivate the agent and do more work, we add a gamification system while the winner can win a trophy and badge. As a result, more works are done, customer happy also our agent.
Create a Self-Service experience to support your brand.
Rather asking help to the pro, customers can browse FAQ first. As a result, they manage to help themself while less ticket submitted.
Knowledge Base (FAQ)
Help your customers to get instant answers by creating a knowledge base system that is available whenever they need it. Beside helping the customer, it also reducing incoming ticket with basic question
Community Forum
Your customers can help one another via community forum. Either they communicate with each other, ask questions, sharing ideas, and learn from each other. Therefore, it's for their sake
Scale your support across multiple product and languages also timezones.
Support unlimited number of product, with 30 languages and on every time zones.
Multi-Product Support
Support unlimited number of products from a single help desk and you can also control what your customers see from the outside
Multilingual Support
Can support customers in over 30 languages. Also possible to integrate your helpdesk with services like Transifex, Localize, and Google Translate
Do your job while we take care of your security.
Customer satisfaction is the top priority, so keep your eye on supporting them without worrying about keeping your Freshdesk up and running.
Custom SSL Certificates
Free wild SSL cerificates for every Freshdek account. Also, if you prefer to use your custom domain for your portal, make it secure by using an SSL certificate. Therefore, you can let us set it up for you
Trusted IP
Freshdesk's Trusted IP functionality lets you whitelist specific IP ranges. Furthermore, coupled with a virtual private network (VPN) can make it more secure for people to access your portal
Single Sign-On
Single Sign-On help your internal users can access your helpdesk easily without to set up new accounts or re-enter their passwords everytime. Also, can be enable to work with internal databases
Know the answer to all your critical question.
Monitoring your helpdesk, check your agent performance and solve the problem to stay on the top.
Complete Reporting and Dashboards.
If you wonder about how is my helpdesk doing? how many agents on shift today? are my customer happy? and many others, don't worry, everything is monitored. Therefore, all you have to do is just check the reporting page. You can also personalize your dashboard for helpdesk insight.
Extend your support capabilities with apps.
Connect your Freshdesk with others tools to support you more and support customer seamlessly.
Connect with Apps
If you want to connect your helpdesk with another solution your team is using, first of all you have to check our list
Custom Apps
If don't have apps for your need yet, probably you have to create your own then integrate with internal tools or third party applications
APIs
Use your account's API key to read information from your tickets and contacts or trigger actions from any third-party source
Free Product Demo
We will assist you during your Freshdesk trial and feel free to share us your schedule for 1-on-1 online product demo. It's Free.