Efficiently Manage your Employee with Haermes Cloud
Save more time and increase your employee productivity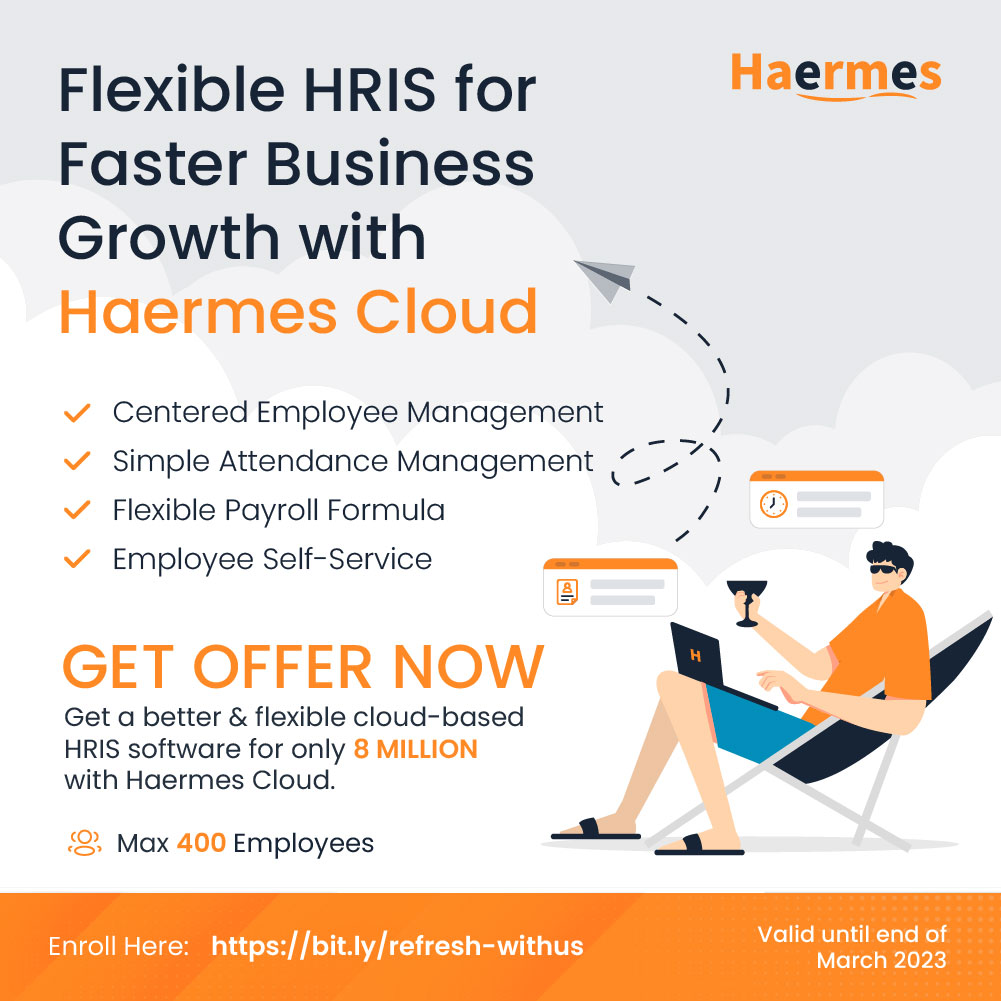 Cloud-based HRIS that can meet all of your HR needs
Digitalize almost all of your system.

Make your data cloud-based.

More user-friendly.

Ensure all of your business processes run smoothly.

Empower your employees with a complete attendance management, instant request approval, and comprehensive training program.
We know you need to access your HR process everywhere on the cloud.
That's why Haermes as a HRIS cloud is here for you. Get this OFFER NOW and ONLY 8 MILLION including:
Employee Management.
Attendance Management.
Payroll Management.
Employee Self-Service.
Note: Valid until 31 March 2023.
You Need Haermes Cloud like Delamibrands.
What do you need to transform?
No more back pain at the end of the month.
Centred Employee Database
Employee basic information.

Organization chart.

Warning, mutation/promotion, award.

Resign transaction.
Flexible Payroll Formula
Create payroll formula.

Calculate BPJS & PPh 21.

Publish the Bank Payroll form. 

Bonus, Loan, Deduction.
Simple Attendance System
Attendance rule formula.

Auto import from attendance machine. 

Leave, Shift, OT management. 

Calendar Shift Group
ESS (Employee Self-Service)
Attendance time override.

Leave, OT, Shift Transaction. 

Request Approval. 

Download payslip.
Employee Appraisal
Structured Employee Appraisal.
Performance Management Linked with Training.
Performance Management Based on KPI.
Performance Management Based on Attendance.
Training Program
Comprehensive Training Program.
Training Application and Approval.
Training Expenses.
Training Evaluation.
You need HRIS Software which cuts your cost and simultaneously the implementation process which can save your time.
Since Haermes is an operational HRIS software, you may need SAP SuccessFactors as a strategic HRIS software to get the right talents.