Face Verification for the New Normal Work
Start your New Normal business with a capable people management tool.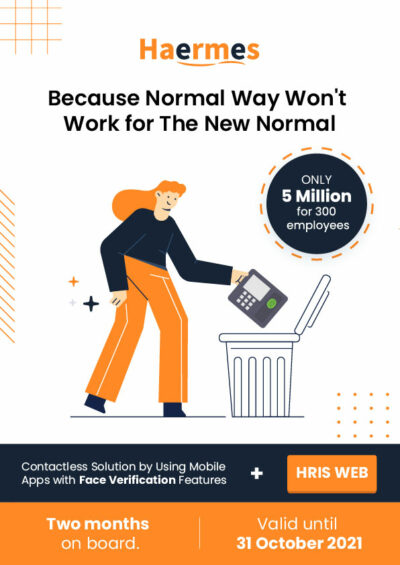 Pandemic has made you:
Tell your team to Work From Home.
Digitalize almost all of your system.
Make your data based on the cloud.
Ensure all of your business processes run smoothly.
Keep innovating.
We know you have been sick with the Attendance system.
You do not know where your teams work from, at what time when they are unreachable, how many hours, and is that really them who click the button Attend on your app.
It is really tough to be monitored.
Throw away your fingerprint machine because you need an Attendance system that is capable for:
Validating the location.
Verifying your team's face.
Capture and save their pictures for backup data.
Get this for ONLY 5 Million including HRIS web + mobile for 300 employees.
Only 2 months onboard.
Valid until 31 October 2021.
*Exclude the setup fee.
Why do you need Face Verification on Your Mobile Attendance?
But, you need more besides a face verification feature.
No more back pain at the end of the month. Enjoy our 4 main modules.
Centred Employee Database
Employee basic information.

Organization chart.

Warning, mutation/promotion, award.

Resign transaction.
Flexible Payroll Formula
Create payroll formula.

Calculate BPJS & PPh 21.

Publish the Bank Payroll form. 

Bonus, Loan, Deduction.
Simple Attendance System
Attendance rule formula.

Auto import from attendance machine. 

Leave, Shift, OT management. 

Calendar Shift Group
ESS (Employee Self-Service)
Attendance time override.

Leave, OT, Shift Transaction. 

Request Approval. 

Download payslip.
You need HRIS Software which cuts your cost and simultaneously the implementation process which can save your time.
Since Haermes is an operational HRIS software, you may need SAP SuccessFactors as a strategic HRIS software to get the right talents.