Amplify Customer Engagement and Deliver Delightful Support with Haptik AI Chatbot
Thursday, 18 November 2021
14.00 - 15.00 WIB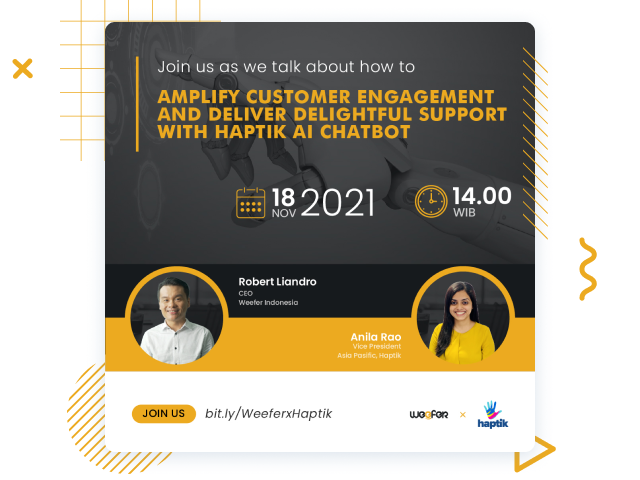 Why should you join this webinar?
We are living in the era of AI chatbots that can break free from the pre-defined conversation flows and truly put your customers first. After years of disjointed service experience, customers struggle to interact efficiently with brands. To overcome these, brands are now preferring to adopt AI chatbots to eliminate the challenges faced such as long wait times, inefficient customer service, lack of personalization to name a few.
Haptik's AI-powered full-stack Conversational AI platform, one of the world's largest Conversational AI companies having reached over 100Mn devices, and processed over 4Bn conversation, enables brands to comprehensively solve business problems end-to-end, and at scale.
Join Anila Rao, VP-APAC, Haptik, and Robert Liandro, CEO, Weefer on Thursday, 18 November 2021, at 14:00 – 15:00 WIB to learn how the Haptik Customer Experience Platform helps you build real relationships with your customers and how you can make the most out of Freshdesk by integrating with Haptik.
During the webinar, you will learn how to:
Offer seamless and unified customer experience across multiple conversation channels
Design complex communication workflows and achieve faster Go-to-Market
Get actionable insights to improve customer experience with innovative analytics