How Good Google Tools Can Strengthen Your Employees Productivity? Try It.
Personalised your business email address, make your team communicate easily, and simplify the creation of document.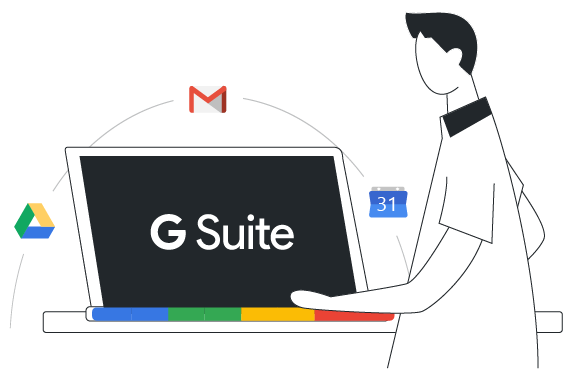 Work efficiently from home, from office, or from any where. But smarter.
G Suite help you do your job with your team better. All tools your team need are here.
Professional Email
Custom email address just like what you want
Online Storage
Store your file on the special storage linked to your email
Fast Sharing
Sharing calendars, video meeting, document, and many more with your team
Built for Business
Collaborate with your team easily
Setup-Deployment
We are ready to setup the account for you. Our G Suite Deployment Specialists work to consult, register and provision your account
Data Migration
Migrate your email, contacts and calendar from your existing email (Lotus Notes, Microsoft Exchange or Web Hosting) is easy with our specialist
Integration
Our developer team will love to integrate G Suite with your existing or new Apps due to increase your team productivity and results
You Know How Effective Google Tools For Your Business
Improve Your Employee Productivity and Smoothen Communication With Your Clients.