Effective Way To Communicate With Customers And Convert Their Message Into What Matters.
Convert customers message into tickets to help what they need or leads for your sales. Make every process to be quick.
Try for Free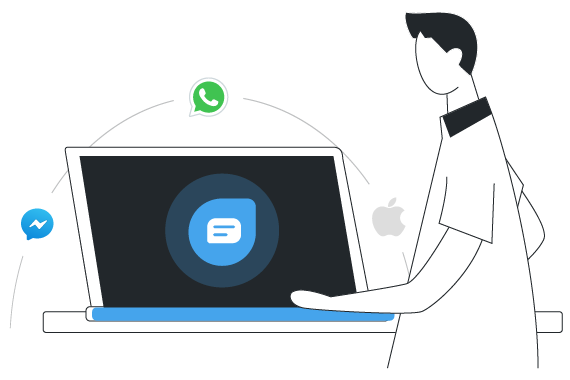 Delight customers and empower your team with automated Bots and AI.
Personalised your own bots. So, say yes for giving service 24/7 to increase your engagement with all these automation.
Message Channels
Categorize conversations into topic-based message channel for setting expectations or for routing to the right groups
Unlimited Contacts
Don't delete data of visitor who chat with you as your website traffic grows. Save and access them on any pricing plan
Priority Inbox
Discover and respond to vital conversations, with filtered views that sort based on time for which responses are due
Custom Views
Filter conversations by team members, groups, and message channels, and save the views you access frequently
Web Messenger
Modern, personal, and continuous. Use emojis, videos, or words. Get all the forgotten context from chat history
Team Widget
Help your team talk to visitors with a widget that sits right inside the CRM or helpdesk apps they are on
Engage when it matters the most and automate your lead capture.
Reach out to visitors before they lose interest in your site with trigger message, in-app campaign, and bots for automation.
Triggered Messages
Engage visitors before they stop caring. Use advanced event and attribute based targeting to send them the right message at the right moment
In-App Campaign
Be the advocate your customer needs at all times. Onboard, educate, retain, re-engage. Enable everything for great customer success
Bot
Generate leads 24×7 – even when your team is offline. Let the bot exchange pleasantries, set expectations, and reduce team dependency
Auto-assign the right conversation to the right team member.
Auto-assign conversations to members in a group based on their skill levels and conversation load also set assignment rule based on a certain condition.
IntelliAssign
Auto-assign conversations to team members, according to their groups, and based on their current load and skill levels
Group
Create expertise-based or category-based team member groups. Route conversations to the right group, and automate assignment within a group
Assigment Rules
Assign conversations to specific team members or groups based on pre-set conditions like chat keywords, language, user properties, time of day, and more
Help visitors find solutions from inside the messenger.
Don't make self-service another silo, try helping visitor from inside the messenger with FAQ integrated and multilingual support.
In-Product FAQs
Deflect common queries with an integrated FAQ browse and search experience inside the messenger, and native FAQs on mobile
Multilingual FAQs
Extend self-help to visitors in the language they prefer. Empower your team members by giving them more than 31 languages to create FAQs in
FAQ Feedback
Gather feedback with an easy upvote or downvote on FAQ content, and keep your self-service experience top notch
Bring your team members closer to their goals with automate tasks.
Give your team everything they need to make them focus on great conversations rather than mundane task.
Smartplugs
Bring all the context from external apps and systems right inside the conversation view to help your team sound smarter and support faster
Canned Response
Set up pre-formatted responses for common message to reduce time on re-typing message and optimize resolution time
Private Notes
Take pointers, log updates, and record learnings. Share this with your team for collective learning and real-time sharing
Business Hours
Let your visitors know when your team is offline, and when they'll get back. Set up automated messages that inform them this better
Bulk Actions
Select multiple conversations from multiple customer and engage, assign, or resolve in one go. Save time, and increase productivity
Read Receipts
Give team members clarity on the conversation status by displaying the customer read status of a message and engage smarter
Act on metrics in real-time while measuring the growth rate.
Check your team performance. Get a summary of your team performance including how fast they response, resolution time, and customer satisfaction score.
Real-Time Dashboard
Get a visual summary of your team's performance. Measure speed of response, conversation trends, resolution time, and deep dive into any team member's workload
Customer Satisfaction Score
Measure team member performance. Find out if it was a yay or nay for your team with CSAT ratings and subjective feedback
Best of all worlds, to make smart decisions.
One of the Freshchat features which can be integrated with your favourite application.
Facebook Messenger
Manage Facebook Messenger conversations, respond to customer enquiries, and provide real-time updates in one place
Slack
Automatically convert the conversations on Slack into messages, also respond to conversations right away from your Slack
ClearBit
Know more about your lead. Get access to your visitor's company details, contact information, job details, and link to social profiles
Zendesk
Convert conversations in Freshchat as tickets on Zendesk. Manage and respond to Freshchat conversations through the Zendesk inbox
Freshdesk
Freshdesk user? you can strengthen them with Freshchat. Convert the conversations and support queries into tickets on Freshdesk
FreshSales
Auto-upload leads from chat into Freshsales. Use the Freshchat to start conversations – engage leads, qualify, and close them all from one place
Chat beyond your desk.
Instant and gratifying experiences for an on-the-go conversation.
In-App Support
Allow your app users to get in touch with you with real-time notifications, rich media and native FAQs, also support users wherever they are
Push Notifications
Alert users on mobile and team members who use the app, to respond to messages, even when they are not active inside the app
Mobile App For Team
Engage with visitors and users on the fly with Freshchat's app for team members therefore designed to make selling and supporting mobile-friendly
Free Product Demo
We will assist you during your Freshchat trial and feel free to share us your schedule for 1-on-1 online product demo. It's Free.